My current Z was my daily driver until I messed it up trying to figure out why it was running so rough…  I promise I'll go into that more in a later post.
At any rate, we are now left with just one vehicle and we are trying to pay down some debt so I have no desire to go and spend a lot of money on another car.  My wife and I were driving around looking for something cheap to just get us by, maybe something that just needed a little TLC that we could sell for more than we paid for it once we are done with it.   We drove past a used car lot that had a lot of mid to early 2000s BMW 3, 5 and 7 series so I wanted to stop by and take a look.  There was a section of the lot next to a garage with what I guess are cars that need to be fixed up just barely enough so they can be sold and I caught a glimpse of the unmistakable posterior of a Z32 300ZX.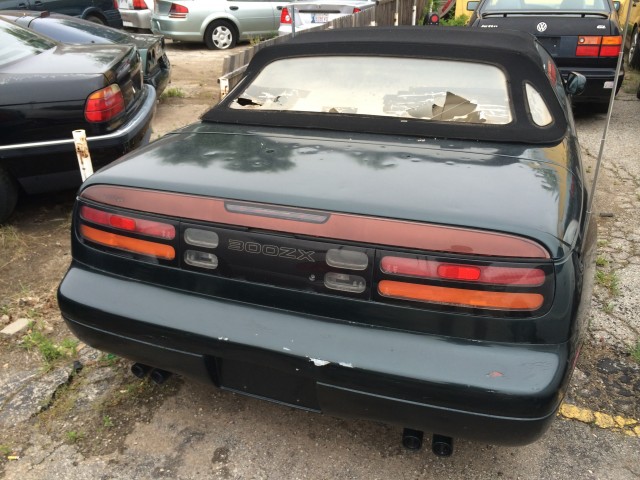 You can probably tell from the photo that this car is in need of some attention.  I remember seeing this car on the lot when I was searching for my Z in 2010 and it was in much better condition then.  It has been sitting here for at least 4 years and has been through many Oklahoma hail storms.  It's been repainted pretty badly and doesn't have the original front windshield but I'm still interested in saving the car.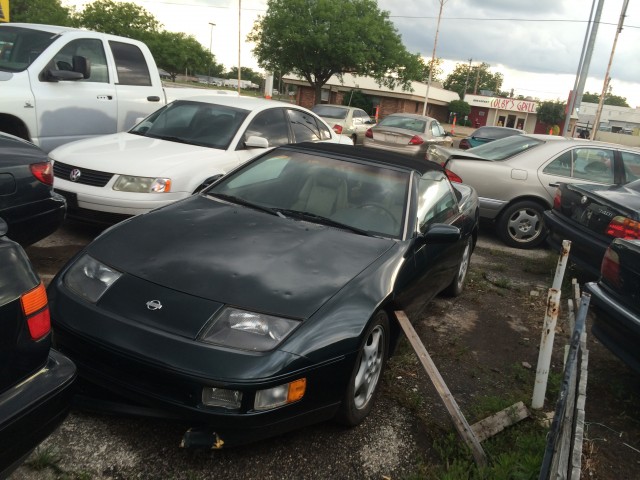 You would think it should be easy enough to work out a deal with this guy to take this car off his hands but since that day 2 weeks ago I have been trying to contact the owner of this car lot by phone and I've been by there at least 4 times and no one is there.  I'm not really sure what is going on but several of the cars in the lot have the windows down and are just sitting through rain slowly decaying.  It's safe to say that this is not a top flight used car dealership.  I did see someone in one of the cars during one of my visits and when I went over to talk to him I realized it was a homeless man living in a Honda Accord!  He told me that he hasn't seen the owner for a couple of weeks so who knows if I'll ever track him down.  I will keep trying to save this car or at least find out the car's story to see if it's worth saving, I suspect that it is.
I'll update this post if I make any progress on this car salvation!
Motor on!